FROM WHICH TO HARVEST PRECIOUS FRUITS
All of our 30 hectares of vineyards are located right in the middle of the Classico area of the Soave appellation.
It is an area made up of volcanic hills at a high altitude that reach up to 340 meters.
Here the microclimate in the hills is cooler than in the plain areas of Soave and there is a wide diurnal temperature range and a high number of hours of sunlight due to the excellent exposure offered by the hills; all these features hugely benefit the vines.
THE VOLCANIC SOIL
The soil itself is an added value: it is a volcanic soil originating from the intense volcanic activity that occurred under the sea during the middle Eocene epoch (about 50 million years ago), when the climate was tropical at our latitude and the vegetation was like in a rainforest.
The rocks that you can still see today are basaltic and volcanic and were formed by the effect of the sudden cooling of magma under the sea and on the ground. So it is a very ancient soil, with totally unique chemical and physical properties among Italian vine-growing regions. It is an extremely evolved soil with complex structural characteristics, with minerals (particularly iron, magnesium and manganese) found very deep down and presenting a marked alteration.
Through the centuries, man's work has helped to guarantee an excellent nutritional and hydrological ratio between this soil rich in mineral components and the vine that continues to interact in a complete and dynamic way.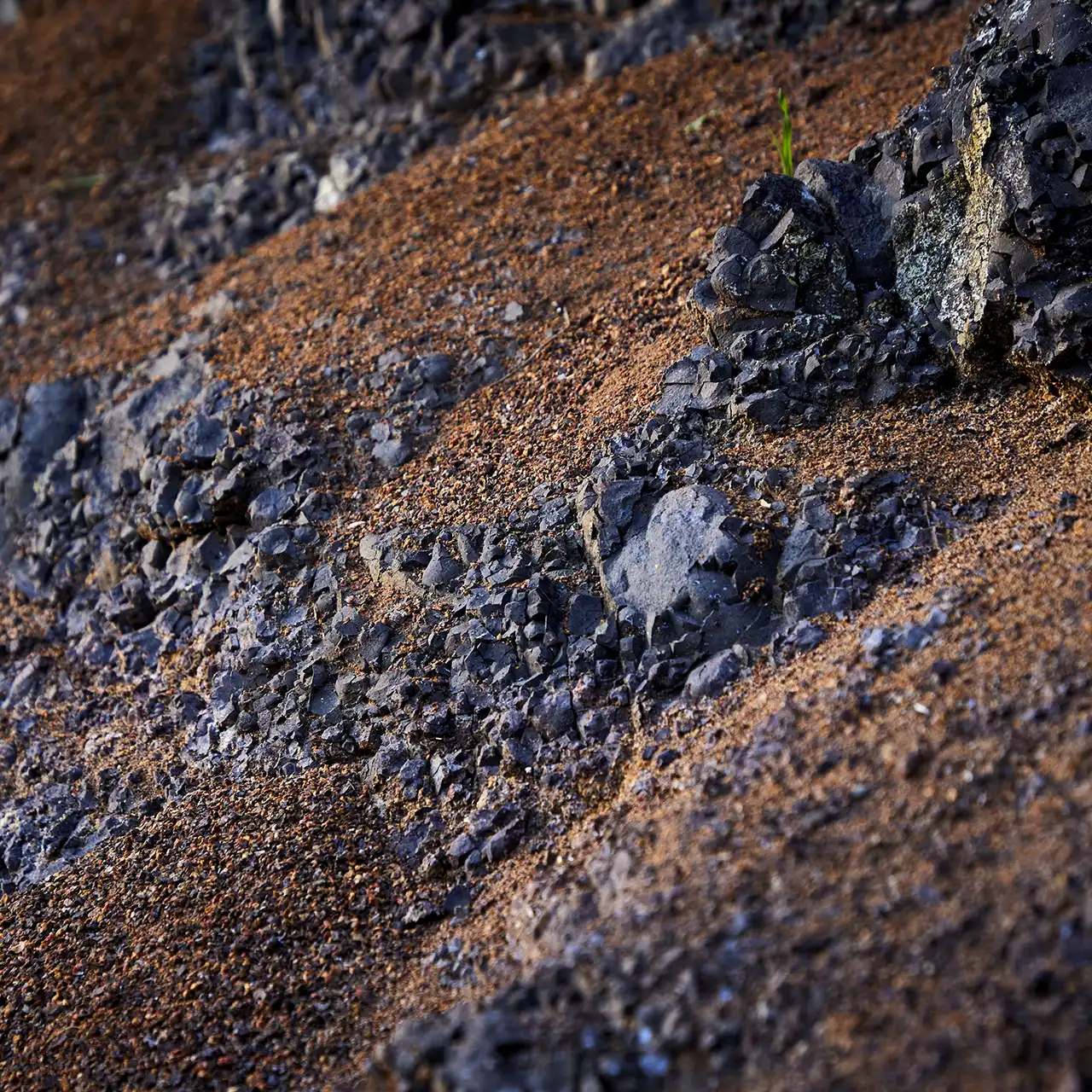 THE NATIVE GRAPES
We only grow the two native varieties of Soave in our vineyards: Garganega and Trebbiano di Soave.
Two white grapes that have lived in our hills for centuries, the undisputed masters of the house in this area that we have come to know well. Vines that are living testimonies of an ancient tradition that must be preserved: those planted by our grandfathers are now more than seventy years old and are the hard-earned heritage of entire generations.
Origins
There are some theories that suggest an Etruscan origin for this grape variety; in fact the distinctive pergola-trained vines were initially experimented by the Etruscans and then spread to most of northeast Italy. However, the similarity and the presumed vicinity of this variety to other Italian varieties, such as Grecanico in southern Italy, suggest a Greek origin. Direct literary sources bear witness to the existence of Garganega already in the eleventh century.
Presence in the area
It is the most widespread white grape variety in the provinces of Verona and Vicenza. It is not as difficult to grow as Trebbiano di Soave and has become very popular thanks to its generous yield. Garganega is endowed with an innate delicacy and refinement and, if it is grown properly in the hilly areas most suited to it, it has firm minerals and good taste structure.
Ampelographic characteristics
The bunch is moderately vigorous, with more or less prominent wings and quite long. The berry is rather large, although the size can be affected by the type of subsoil and microclimate, giving rise to decidedly small berries. It is one of the late-ripening white grape varieties: it is picked well into October, more like a red variety.
Origins
For Gallesio (1817-1839) and Di Rovasenda (1877), describing and listing the various Trebbiano grapes in Italy was "a job as hard to give up as it is to finish". In fact in almost every part of Italy there are grape varieties that bear the name of Trebbiano, usually together with a place name. Trebbiano di Soave is probably the ancient Turbiana, which was already mentioned in the 1500s and also known as Trebbiano Veronese.
Presence in the area
After the Second World War (given its poor yield and early ripening compared to Garganega), Trebbiano di Soave was replaced by the more productive Trebbiano Toscano and only remained in modest quantities in very few vineyards in the hills. Today, thanks to our winery's collaboration with the University of Milan, this ancient variety has been brought back and replanted at Fittà on a surface area of 2.5 hectares.
Ampelographic characteristics
Trebbiano di Soave has a lot of features in common with Verdicchio and Trebbiano di Lugana, however it differs from these by its minute and compact bunch, with small delicate-skinned berries. It stands out for its good acidity and sapidity.